End of year address to the graduates of American University's Center of Diversity and Inclusion 
Photograph by Noorjahan Begum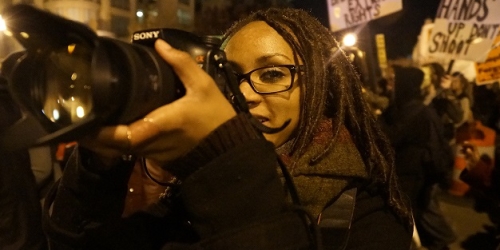 Black Lives Matter: Shut Down Chinatown protest from Mt. Vernon Square Washington, DC
Photograph by Christina Animashaun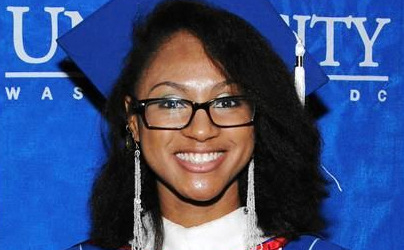 Miranda Strong receiving her Masters in Investigative Journalism from American University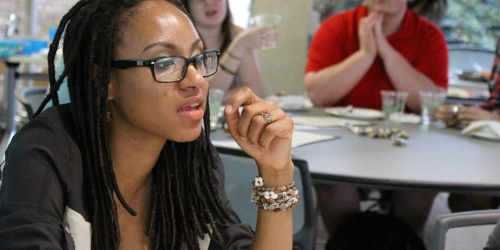 Miranda Strong before being awarded as a member of the Center for Diversity and Inclusion Programming Board 
Photograph by Noorjahan Begum
Miranda Strong is a Multimedia Journalist who writes about gender, race and the intersection between these experiences.
Strong received her under graduate degree from Virginia State University, a historically black college located in central Virginia with a strong legacy in the African-American civil rights movement. As she pursued her studies in English, mass communication and secondary education, Strong revealed her passion for highlighting the experiences of people who walk under-represented paths and the need for those stories to be told.
As an educator, assistant directing for a private learning center, Strong further solidified her understanding of how varying accounts of the human experience widens the lens through which consumers view the world. Strong learned from the sentiments of her students that it is imperative now to advocate for diversity and to ensure that subsequent generations experience culture through a media that values difference and inclusion.
In August 2015 Strong completed her graduate work in investigative journalism and public affairs at Washington's American University.  At AU, she volunteered as a member of the Center for Diversity and Inclusion Programming Board and was a speaker for a panel that aims to educate students on gender, class, race and LGBTQ intersections through storytelling. Strong has also contributed to work with the Investigative Reporting Workshop, a nonprofit newsroom that publishes in-depth stories about government and corporate accountability. She has also written for the Investigate Reporters and Editors, a nonprofit dedicated to improving the quality of investigative reporting. Strong is currently working as a student intern for the Washington Post contributing on stories about race and criminal justice in the District.